Website | 5-Page
$1,296.00
We will build you an amazing website for an incredibly low price. We take advantage of our designs created just for your industry and customize them to reflect your unique idea. Once you place your order, all that's required is to fill out a form, which will take 10 minutes. From there, we do the rest and will have your website completed within a week or less. It's just that simple. Then we can help your market your site too. To see a sampling of our portfolio of websites, see https://clickitwebsitedesign.com/portfolio.
For the best management and service, the website will be hosted at Click IT Hosting (See https://clickit.host). We will begin this project once you complete our Website Questionnaire form (https://clickitstores.com/website-questionnaire-form) and Payment Policy Form (https://clickitstores.com/payment-policy-form). Depending on our workload, the website creation project can take up to 4 weeks.
UPGRADE: Want to consider more than a basic 5-page website that has more sophisticated features? Want a shopping cart, perhaps? Learn more at https://clickitstores.com/product-category/website-design/modules.
********************************************************
Description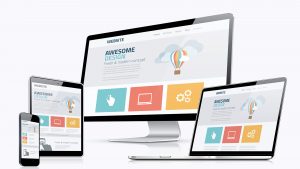 A beautifully crafted, mobile-responsive website designed and built by our in-house website designers, with up to 5 stock images, a licensed copy of our BB Page Builder, and a Theme based on one of our portfolio of websites.
Use of up to 5 stock images
Licensed Theme and Plugins
Up to 5 pages, including 1) Home Page, 2) About Us Page, 3) Contact Us Page, plus two pages of your choice. Examples: Products & Services, Why Us, Blog…
Built completely SEO-ready with features activated such as Social Media Icons, Blog, HTML, and XML sitemaps.
After completion, we will give you a one-hour lesson on how easy it is to manage yourself. This is especially important if you want to change or add content, which, for search engines, will work to favor your website in Internet listings (SERPS – Search Engine Results Pages).
*Note: This package does not include content creation, you will need to either purchase content at a later date or look at our bundled Web Design And Content Creation package.
THE PROCESS
CLIENT INTAKE AND BRANDING
After receiving the completed Web Design Client Questionnaire form, we begin branding the website with the necessary digital imaging requirements. This is inclusive of any company logo, company business profile, fonts, colors, and images provided.
CONTENT INTEGRATION
We integrate the content provided according to our page layouts for our basic web design. Once we've completed the branding phase of our web build, we integrate the content provided using the chosen template's inner-page layout which includes the Home Page, About Us Page, Contact Page, and up to two pages of your choice.
1ST REVISION CYCLE
Once we've completed the branding and content integration, our expert web managers review the first revision prior to submission for review. We provide you insight into the website in preparation for your first revision phase.
The first revision implementations should focus on the following feedback if required:
Removal of sections
Color scheme
Fonts
Now is a great opportunity to review the content and branding is aligned. We focus on the feedback above to ensure we're on the right track for getting your website up and running.
2ND REVISION CYCLE
During the second revision process, we focus on the following feedback points, and if a revision is required, the implementation will follow accordingly:
Image Changes
Content Integration
Banner Elements (Not redesign)
Social Media Links
PRE-LAUNCH QUALITY ASSURANCE
Once the revisions have been conducted and the necessary implementations completed, our Quality Assurance team scores the website and performs an in-depth review, ensuring the website is mobile-friendly and dynamically responsive for modern browsers and devices.
WEBSITE MIGRATION
Once our QA team and developers complete the Quality Assurance process, we begin migrating the site to your host provider. During this period, our developers will require access to hosting so please ensure the access credentials and tokens have been provided.
POST-LAUNCH QUALITY ASSURANCE AND HANDOVER
Once the site has been migrated, our Quality Assurance team goes through the site once more to ensure the site is fully functional and working as intended through our predefined checklist.
REQUIREMENTS
Below are the key requirements we need to efficiently start the web build to have the best turnaround time for you to really impress your clients. We strongly recommend at the end of the pitch to the client, to request the requirements while preparing the contract. Here are the access requirements:
Approved Template, Colors, and Typography
Provided Content and Existing Assets
Selected and Approved Shutterstock Images
Logo And Branding Material
Additional information
| | |
| --- | --- |
| Payment | 1/2 Payment, 2/2 Payment, Full Payment |